Dinner last week was at Cicou. This dinner was organized by Noel for a fellow forum mate of his at Wineberserkers, Clem Nieto and his wife, who were here visiting family. Noel advised me a few days before and I obviously will not say no to an invitation like this. It's always nice to meet new people who share the same passion as you. I had also been wanting to go back to Cicou, as I had not been there in a while.
We started the night with some Bubbly Rose (Rene's bottle) of 1998 Champagne Billecart-Salmon Cuvee Elisabeth Salmon Rose. Very nice bubble, initially a bit closed, but opened up as it spent some time in the glass. Nice way to start our dinner, together with the amuse bouche, the Prawn Croqutte.
Noel had ordered a special dish for that night, one he had tried recently in one of his dinners. I was not going to have this at first since I was sort of on a diet, but I could just not say no to this dish: Marbled Terrine de Foie Gras, Unagi, Teriyaki sauce, Lemon Confit and Red Cabbage Salad. Fantastic, Marbled Foie, glazed with just the right amount of Teriyaki Sauce, The lemon Confit, just the right amount of sweetness with a little sour note, perfect for the Foie.
We had this with Noel's bottle of 1997 Rolly Gassmann Gewurztraminer Oberer Weingarten de Rorschwihr Selection de Grains Nobles I had to copy this name from Noel's blog). Lovely pairing. I'd say this type of wine was the best for this dish. Lots of Lychee notes and not overly sweet.
Then, the line up of the reds:
We had some power house wines, such as the 66 Latour and 93 Mouton (very generously shared by Clem), Noel's 64 Faustino, Rene's 95 Pichon and my 2000 Grand Puy Lacoste, which was spared that night. My WOTN being of course the 66 Latour, probably only the 3rd time I try a Latour. For a wine 44 year old wine, it still had the color and strengh of a young wine. No brick color at all and a lovely nose. Thank you Clem for sharing this wine with us. My second favorite, Rene's 95 Pichon. Very elegant and open. Still has lots of potential to age much much more.
For my main, I had Boudin Noir, which is basically a French Blood Sausage (like the Spanish Morcilla). This was flown in by Chef Cyrille from his home town in France. I love Blood Sausages and this was not an exemption. This sausage was very creamy, full of meat and not as much fat, which was good.
For dessert, a cheese platter to go the
2000 Chateau Dereszla Tokaji Aszú 6 Puttonyos
.
A very nice Tokaji, very sweet but very light as well.
Noel also had a Kouing Aman Cake, a typical dessert from Brittany. Translated, it means butter cake. This was delkicious (thanks Noel for sharing some of it with me), topped with home made caramel Ice Cream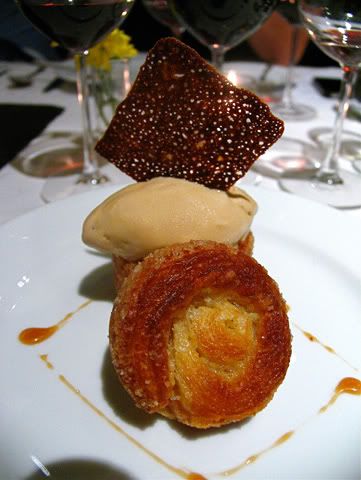 Last, some Petit Fours courtesy of Chef Cyrille. Lovely Macaroons..some say one of the better ones in Manila. I would probably agree to that.
Lovely dinner over all and great food. I was impressed with the food and wine. Cyrille took time to explain to us many of the special dishes he as on the blackboard. You can see he is very passionate about what he does. I will be back there soon!