I was lucky to have been able to reserve a table at this restaurant. It takes months to get one and you are at the mercy of the time they tell you and how many people can be with you (you book thru the open table website, so everything is automated)
For starters, we had 2 starters: Meat Fruit and Roast Scallops. The meat fruit was a tangerine covered chicken liver parfait. This was delicious. The tangy taste of tangerine was in perfect harmony with the liver. I could have had this all by myself. The scallops, perfectly cooked, had the cucumber ketchup which was quite unique.
For main course I had the black Foot Pork Chop, pointy cabbage and Robert sauce. It also has some sort of crunchy thing on top, pork cracklings maybe very tender and juicy chop. They must use a special kind of Blackfoot pig maybe similar to the pata negra of Spain, which gives it the deep rich flavour.
For dessert we shared a tipsy cake. Spit roasted Pineapple with a sponge cake drowned in liquor. This was interesting as the cake was very rich and the pineapple had the right acidity to it.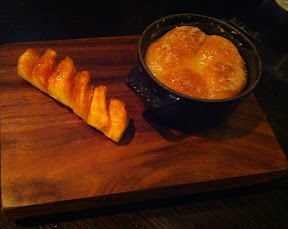 Overall a good experience ad service was excellent Don't expect the fancy dishes from the Fat Duck. This place is more a traditional/typical English food bistro. Over great value for money. It takes a whole to get a reservation but I believe it's worth it.
- Posted using BlogPress from my iPhone