The first of my birthday week celebrations was at La Tienda. I asked Javi to prepare some Pintxos (some old and some new) and a Chuleton. I wanted this to be an all Spanish Wine and food lunch, and that is what it turned out to be. Had as lot of fun, good food and great wines.
For starters, Aaron brought a 2004 Freixenet Cava Cuvee DS Gran Reserva , which we had with some Chistorra and Gambas a la Plancha. I love the pairing of Cava and Chorizo for some reason.


As soon as the Other arrived, the Pintxos started coming and we opened the wines. First was my bottle of Txacoli: 2008 Txomin Etxaniz. I've mentioned this type of wine many times before. Great pairing with the shrimp, very dry wine, not as fruity/floral as the Itsas Mendi no. 7, since this is more traditional Txacoli.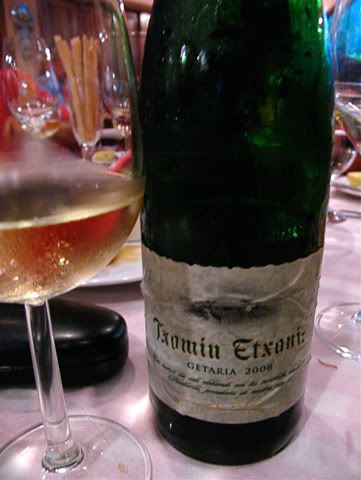 The following were the reds we opened: 1989 CVNE Imperial Gran Reserva, 2001 Campillo Finca Cuesta Claro "Raro" Rioja Reserva Magnum, 1998 Vega Sicilia Unico, 1995 Vega Sicilia Unico and a 1964 Faustino Gran Reserva. The CVNE, popped and poured, medium bodied, light/medium tannins. We all agreed that it might have been better to decant this for at least 45 minutes to 1 hour. A's Campillo, made of tempranillo peludo (hairy tempranillo), was a pleasure to drink (quoting Jojo) and seems to have [potential if aged a bit more. I will definitely order some when this wine is available in Manila.
As for the "Unicos", Rene's 98 was decanted for around 2 hours, while my 95 was decanted for about 45 minutes. Both excellent, I enjoyed them with the Chuleton and fries. Both were powerful wines, although the 95 seemed to be a bit more than the 98. Regardless, both wines were excellent. I was saving my Unico for a special occasion, so what better time than this to open it.
The last bottle was my 1964 Faustino Gran Reserva. A wine Noel, Aaron and I ordered from Spain a couple of months ago which they are thinking of selling locally. At first, based on the looks of the bottle, we had our doubts about this wine. Once opened, everything changed. Surprisingly youthful after 46 years, this does come from the 64 vintage of Rioja, who some people say was the best year ever for Rioja. I would definitely agree. Even the color was not of a 46 year old wine...fantastic!
You must be wondering by now, where is the food? Well, here is what we had: (some are Javi's 'usual' and some were things he made special for the lunch).
The 'usual' Escalivada...
Gambas con Datiles y Bacon sobre Tomate Confitado (Shrimp with dates wrapped in Bacon and Tomato Confit)
Tomate Asado Rellenos de Chipirones encebollados con Espuma de Almejas (Roasted Tomato with baby Squid and Clam Foam)
Pintxo de Brocheta de Solomillo y Bacon con Arroz Cremoso, Foie Gras y Salsa de Oporto (Beef, Pork Belly,Seared Foie Gras, rice and Port reduction)
And of course, Chuleton with fries and Javi's special Pimientos ( a recipe from his 'Abuela'). We also had a Paella de Verduras with Basmati Rice, but we just too full to to have any so I gladly took it home.
Thanks Guys for coming...really enjoyed the food, the wine and the company!