I've grown to like the steaks at Mamou, even if the first time I went I had a bad experience with a mix up with the reservations. That's all in the past now and Mamou could easily be in the top 5-10 of my favorite restaurants in Manila.
We were 4 in total, so we started with some Champagne Veuve Clicquot Ponsardin Rose NV courtesy of Noel. At approximately 2,800 pesos, this is steal. Very refreshing, light champagne which is perfect to start a meal.
For Starters, we had 2 orders of Spaghetti Bottarga. Bottarga (dried Tuna Roe) is a delicacy in Italy and normally served on Pasta, Pizza or even salads. This one is a very simple pasta dish, with Olive oil and grated Bottarga.
We then opened 2 bottles of wine, care of Rene: a 79 Pichon given as a gift to him by Noel, and a 98 Araujo Cab Sav from California. We decided to have the steak with the California, since the Pichon, which was quite old, we though would be over powered by the steak.
The main dish, 2 orders of Dry-Aged US Prime Grade Bone-In Rib-Eye. We asked this to be served rare, and I must say they did a good job. I love this oily steak, specially with the red steak rice.
As if the steak was not enough, we had to order a side order of Bacon which was delicious.
What a great meal...food was great, wine was superb and company even better. We should have meals like this more often.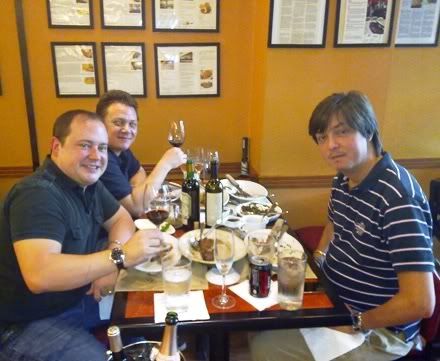 (This photo c/o Noel)