I've been wanting to eat at this restaurant for quite some time now. I jut never found the right time. It's one of those classic restaurants in Madrid that ha e been there for ages. Apparently t us also the favourite hang out of Real Madrid players and many celebrities.
For starters, I had some sherry with some chorizo and olives which is a standard starter for Asadores. We also had a platter of Jamon Iberico. We just had this to start, since we knew the Chuleton was coming next and it was going to be huge. We had this with the wine I chose also for the steak, a 2007 Muga Reservation from Rioja.
Then came the main attraction: 1 Kilo of dry aged beef which they call 'Chuleton'. Normally around 2 inches thick or even more, this is slightly seared, sliced them served. A hot plate is provided to cook it more of you like. I just put it in the hot plate for around 10 seconds to warm it up. The Steak is still rare which is how I like it. Here some pictures of the Chuleton:
The meat was one of the better ones I've tried lately. The dry ageing really gives it more flavour and taste, buttery and nutty. Served rare and with good wine, this is one of the finer things in life.
We managed to finish the steak and had no more room for anything else. We did have room though for some 'chupitos' of Pacharan and Licor de Hierbas. This is a typical digestif served in many Spanish restaurants.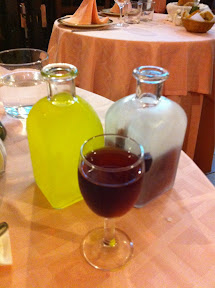 This is one of the better restaurants I've been to in Madrid. Very highly recommended.
Hasta la Proxima!
- Posted using BlogPress from my iPhone