I decided not to have a big party for my 40th birthday this year. Instead, I choose to just have several smaller celebrations. This one was an intimate dinner with my wife. I had a great time and food was excellent. Below, a photo of the wine I had brought for the night. I have to thank Noel for letting me drink one of his bottles of Domaine Bandol Rose. This was just perfect for the food I had. I was really craving for this.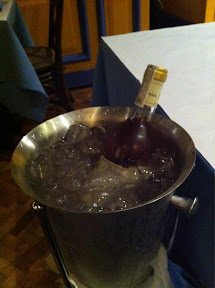 For starters, Salmon salad with cheese. The salmon was very fresh and great combination of the cheese, Salmon and arugula.
Next, Escargot Bourguignone. I love this, specially if paired with a Domaine Tempier Bandol Rose. This is a classic pairing and the wine, probably the best Rose wine in the world in my opinion.
For the main course, we had Marc's Algerian Couscous (good for 2). I've been looking forward to having this for quite some time now. With the Rose wine, it's a magical pairing. The dish is basically 2 plates. First the Couscous with lamb and merguez sausages..
Then a stew with chick peas, beef, chicken, and many other goodies. Another important factor is the Harissa, a spicy chilli paste.
One of my favourite dishes in Champetre. Chef Marc really does this well. It a perfect dish for a typical Sunday lunch, served with Rose wine. Delicious.
I had a great time. Thank you to my wonderful wife!!
More birthday celebrations to come!
- Posted using BlogPress from my iPhone