This is probably one of my favourite restaurants in Milan. Small neighbourhood restaurant. Literally sits just around 25 people max. You have to come early if not you will have to wait a while.
Started with some Culatello di Zibello and some ravioli stuffed with mozzarella and a butter sauce. Delicious!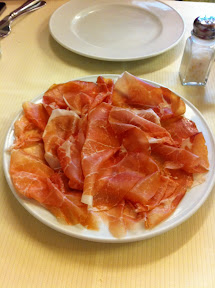 For main, we had risso venere with julienne vegetables. This is some kind of black long grain wild rice served with vegetables and a little truffle oil. So simple yet so good.. And seemed to be healthy.
My dish: Egg, Butter, Bottarga in a silver pan (Uova al burro con Bottarga de Muggine in argento)
Look at that beauty! Such a simple no nonsense dish. 3 ingredients a voila! I could have easily had one more of this.
Definitely San Marco is a place I will always return, in fact I wanted to return the next day but unfortunately, that was their last day since they were going on summer vacation.
I'll be back there soon.
- Posted using BlogPress from my iPhone